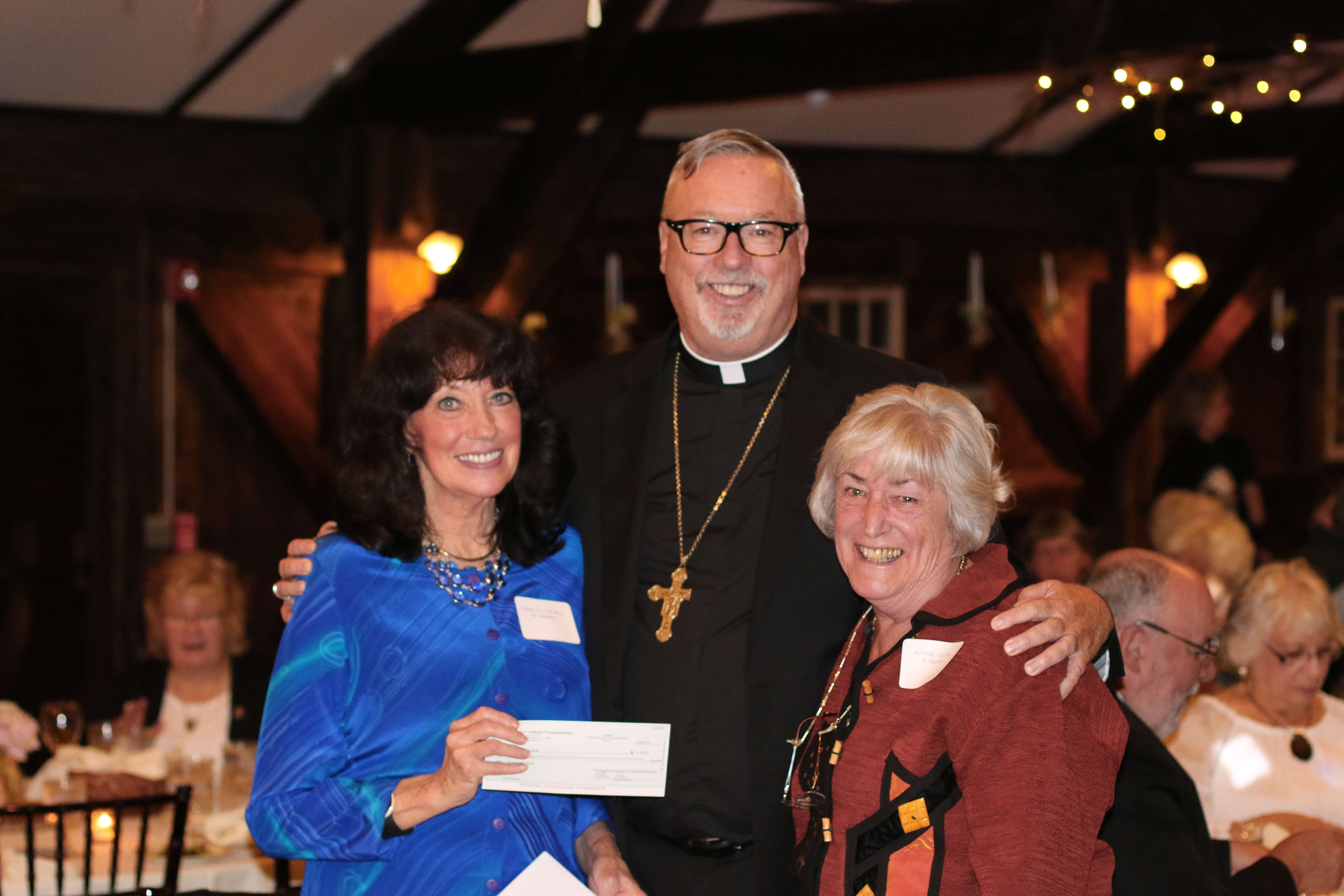 Vermont Catholic Community Foundation Annual Meeting
On Sept. 28, more than 160 Catholics representing parishes throughout Vermont gathered for the second Vermont Catholic Community Foundation Annual Meeting at the Old Lantern Inn and Barn to honor people in three categories: family, community and charity.
Founded in 2015, the Vermont Catholic Community Foundation is a separate nonprofit from the Diocese of Burlington that has more than 45 funds designated to support Catholic schools, parishes, cemeteries, ministries and charitable causes throughout Vermont. To learn more visit vtcatholicfoundation.org.
Ellen Kane, executive director, presented the Family Award to the Fitzgerald Fuller family for establishing the Rice Memorial High School Fitzgerald Fuller Scholarship Fund in VCCF to provide financial aid scholarships to eligible students at the South Burlington Catholic high school. John Fitzgerald and Mary Ellen Fuller met and fell in love as classmates at Cathedral High School. They married and built a home in Winooski. Together they raised eight children, all graduates of Rice. Nine of their grandchildren also attended Rice. After 54 years of marriage, Fitzgerald died in 2006. All eight of the Fitzgerald children surprised their mother last Easter with a gift doubling the fund and financial aid capacity.
In the words of the Fitzgerald children, "Mary continues to be an example of quietly living her faith to her children, grandchildren and those around her. Through her scholarship to Cathedral/Rice and her life, she is an inspiration to us of the Gospel message to serve others."
The foundation will place a plaque acknowledging this family gift on the Rice Memorial High School Scholarship Wall outside the admissions office.
David Mount, a VCCF board member, honored the St. Augustine Soup Kitchen volunteers with the Community Award and a $1,000 donation to purchase food made possible by VCCF and a donation from CapTrust. Founded in 1988 by a group of concerned parishioners who wanted to provide a sandwich and soup in the parish hall to local community members down on their luck, the soup kitchen now serves an average of 75 people per night. Four other local churches have since joined the cause, and now a free hot meal is available every evening Monday through Friday in Montpelier.
"What's different about the meal at St. Augustine's is that guests sit at tables in the parish hall and their meal is served to them — no standing in line," Mount said. "Service to others is what our faith calls us to do, and the St. Augustine Parish Soup kitchen is an example of this."
Burlington Bishop Christopher Coyne presented the Charity Award in memory of Antonio Pomerleau. "To calculate his generosity over the course of his lifetime would be impossible but to give you an idea of his support, the foundation he created to carry on this effort beyond his lifetime has donated almost $7 million since its inception in 2005 with almost $1 million of that directed to Catholic churches, schools and charities. Tony's life was truly an example of faith in action," he said.
The VCCF will establish the Antonio Pomerleau Emergency Aid award with a $10,000 gift from the Pomerleau Family Foundation.
The Rice Memorial High School Chorus entertained guests, and food and beverages were made possible by the following sponsors: Lead sponsor, Old Lantern Inn and Barn; Event Sponsor, Aquitaine Wine Company and Misty Knoll; and Community Sponsor: CapTrust and My Little Cupcake.
To view more photos, go to: dropbox.com/sh/rltwoypbafhk920/AAAXGKw8AyiCsG8XbJPptLDxa?dl=0.