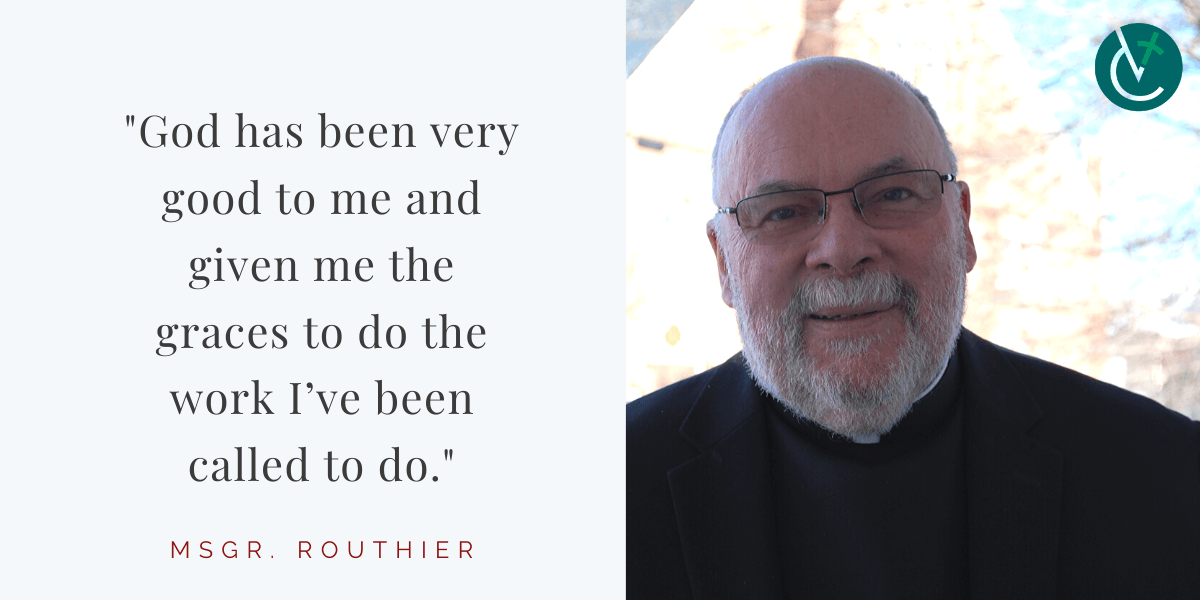 Stowe church inspires devotion to Brother Dutton
Msgr. Peter Routhier developed a special devotion to Brother Joseph Dutton when he was pastor of Blessed Sacrament Church in Stowe, a church built on property that was once the Dutton farm.
Brother Dutton, born Ira Dutton in Stowe in 1843, was a Civil War veteran who converted to Catholicism. The Diocese of Honolulu has taken the first official step to the possible canonization of this man who spent half his life serving leprosy patients in Kalaupapa, Molokai, working with the settlement's two saints, Damien de Veuster and Marianne Cope.
Msgr. Routhier has helped spread devotion to Brother Dutton and to educate people near and far about him.
"Brother Dutton is very intriguing. He watches over everyone in Stowe," said the current pastor of Holy Angels and Immaculate Conception churches in St. Albans. "He was devoted to the Blessed Sacrament," and the Stowe church was modeled on chapels in Hawaii. It bears likenesses of lepers on the interior and exterior walls.
"The church tells a great story of service and living out the call Christ gives us to accompany others on the journey of faith, of discipleship" Msgr. Routhier said.
He has lived his own journey of faith as a priest of the Diocese of Burlington since he was ordained in 1978.
Born in Newport and raised in Westfield, he attended Sacred Heart Church in Troy and graduated from Sacred Heart High School in Newport in 1969.
Priests often visited his family's home when he was growing up; he remembers several encouraged him to consider the priesthood, and he took their encouragement seriously.
After being accepted to study at the University of Vermont, Middlebury College and The Catholic University of America, he was advised by the chancellor of the Diocese to attend the university in Washington, D.C., and he became a seminarian for his home Diocese.
His family, including his sister, Frances, has been supportive of his priesthood, and the priests in Troy while he was growing up were "prayerful, pastoral and attentive to the needs of their people," setting a good priestly example for him, Msgr. Routhier said.
Following two years of study at Catholic University, he and other Vermont seminarians there were transferred to St. John's Seminary in Brighton, Massachusetts, from which he earned a bachelor's degree in philosophy with a minor in history. He then attended North American College in Rome where he studied at the Pontifical Gregorian University run by the Jesuits, receiving a bachelor's and a master's in theology.
He has served numerous parishes in the Diocese including Assumption of the Blessed Virgin Mary in Middlebury, St. Monica in Barre, St. Stephen in Winooski, St. Augustine in Montpelier and St. Joseph Cathedral in Burlington.
A graduate of the University of Notre Dame with a master's in liturgy, Msgr. Routhier served for several years as liturgy director for the Diocese of Burlington.
A former vicar general of the Diocese and vicar for Vermont Catholic Charities Inc., he currently is vicar for clergy and a member of the Diocesan Administrative Board, Diocesan Finance Council, Vermont Catholic Charities Board and Presbyteral Council.
"God has been very good to me and given me the graces to do the work I've been called to do," Msgr. Routhier said, adding his thanks to all those who pray for him. "I've always been provided with the grace to go on."
Although the Church has faced change and challenge since he was a boy growing up in northern Vermont, Msgr. Routhier said he is grateful the "Church still celebrates its sacraments with great joy and great hope."
And from the example of Brother Dutton, he has come to a greater appreciation of the need to anticipate what has to be done, to "do things quietly behind the scenes and to be very attentive to a Holy Hour of prayer as Brother Dutton was."
—Originally published in the Spring 2020 issue of Vermont Catholic magazine.