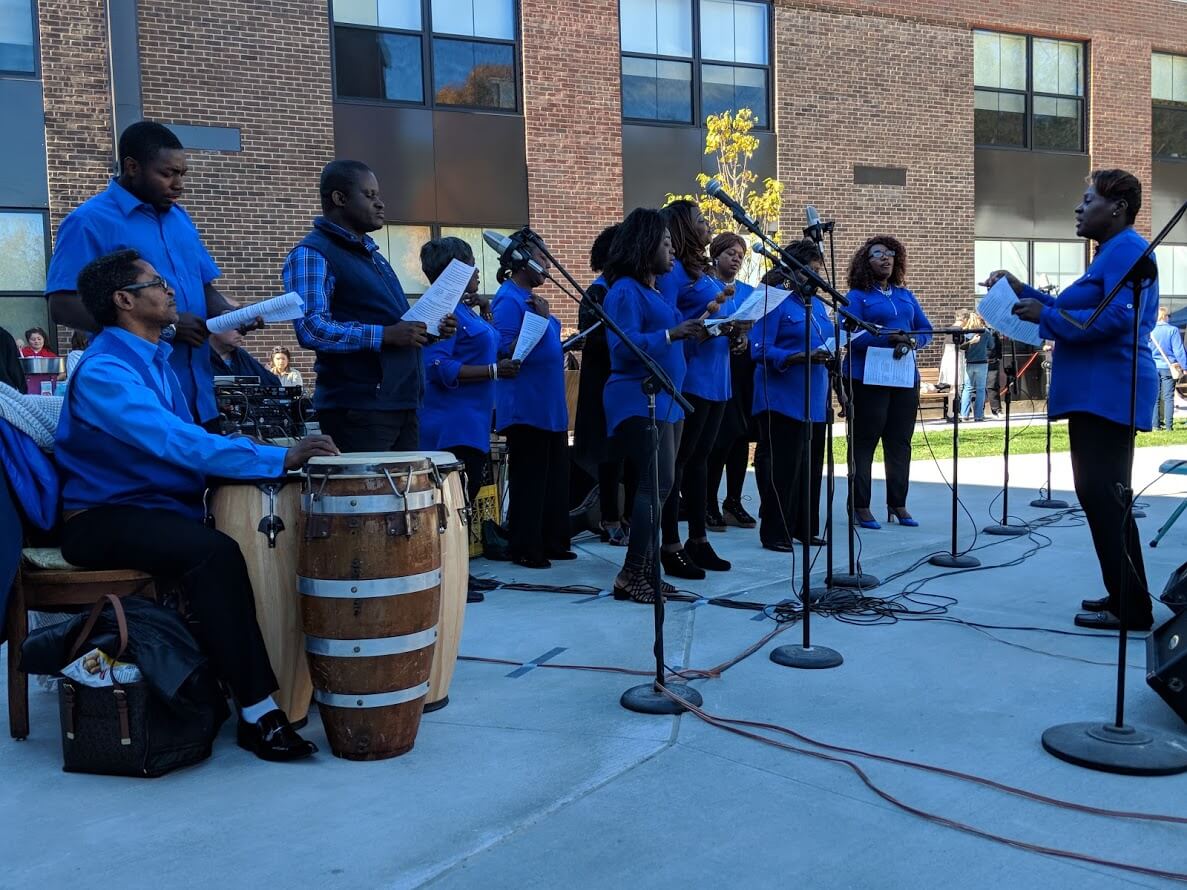 St. Francis Xavier Parish 150th anniversary celebration
In 1868 a 26-year-old newly ordained priest from Montreal was sent south to Vermont for his first assignment. Father Jean Audet arrived in Winooski to find hundreds of French Canadian millworkers, but no church or rectory. At that time, the children of the millworkers were being taught by nuns who had to walk from Burlington each day and conduct classes in small rented rooms.
Father Audet celebrated his first Mass for his new parish, named St. Francis Xavier after one of the greatest missionary priests of the Church, in a rented hall. He then set about building a school, a convent, a rectory and a church.
One hundred and fifty years later, hundreds of St. Francis Xavier parishioners and friends gathered on a perfect fall day to celebrate the anniversary of their parish's founding. The day began with a Mass concelebrated by Burlington Bishop Christopher Coyne and Msgr. Richard Lavalley and Father Scott Gratton, the current pastor and parochial vicar of St. Francis Xavier.
Mass was followed by a festival that included a community barbecue, carnival games, historical videos and displays and musical presentations by the St. Francis Xavier School choir, the local African church choir, traditional French Canadian musicians, an Irish band and the St. Francis Xavier Parish choir.
Watching the approximately 700 attendees lining up to dine, Father Gratton reflected on the fact that the barbecue was a microcosm of how the parish works. "Our local Knights of Columbus provided a large portion of the food here, but we also had local businesses and dozens of parishioners and families from St. Francis Xavier School donate salads, fruit, hot dogs, desserts, the grills we're using and their time to cook and serve the food. As with all things at St. Francis, it's a community effort."
Msgr. Lavalley agreed. Standing beneath the church's twin spires, which have become an iconic part of the Winooski skyline, he spoke about the origins of his parish. "This church was built with the nickels, dimes and 50-cent pieces of those early millworkers. They had few material resources, but they had tremendous faith. Father Audet built this church high on a hill so those workers could look up from the mills during their breaks and see their church."
Even the music of the day was a reflection of both the history and the current composition of the parish. "This parish was founded by immigrants from Quebec," Father Gratton said, "and the descendants of those families still play a big part in this parish. But those families have been joined by more recent arrivals to this country, especially from Africa and Vietnam, as well as Catholic families from many surrounding towns. Our school also plays a huge role in our parish."
Having the children's choir, the French Canadian musicians, the African choir, the parish choir and an Irish band perform "speaks to who we are," he added.
As for that young newly ordained priest who started all of this 150 years ago? Father Audet spent his entire adult life serving his parishioners in Winooski. He died in 1917 at age 75 in the rectory he helped build and is buried in a place of honor in the St. Francis Xavier Cemetery.