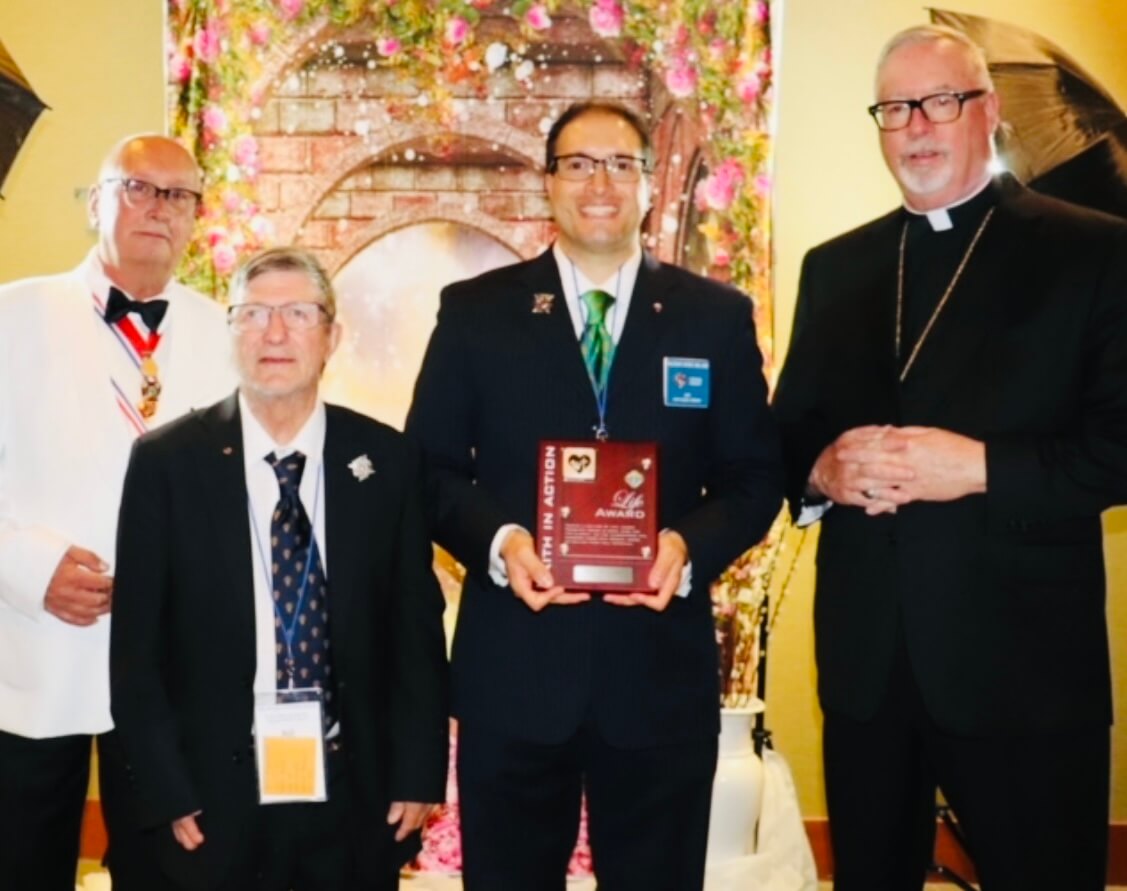 St. Albans Knights of Columbus
St. Albans Knights of Columbus Council #297 is an active council, working on such projects as blood drives, its 125th anniversary celebration, the Keep Christ in Christmas poster contest, the Tootsie Roll Drive to help children with special needs and a Big Change Roundup.
"Every council is special and serves to help the Church and the community. With respect to Council #297, my goal is to continue to communicate and promote ways that we can act more toward a servant leadership approach," said Valdemar Garibay of Holy Angels Parish in St. Albans and Grand Knight for Council #297. "My hope is that we can continually learn from other councils and the programs they offer, and we can also offer ideas and support to other councils. In essence, all 36 councils are one big team doing the best that we can to be helpful to the Church and community."
Since 2020, the council has hosted, promoted, volunteered for and worked at 36 blood drives either at St. Albans City Hall or St. Mary Parish Center in St. Albans. "Our council just recently reached our 1,000th blood donation milestone … and currently we have helped bring in 1,091 blood donations," Garibay said. "Each blood donation helps three people. We typically do one to four blood drives a month. In my opinion, engaging in these blood drives has been a blessing to continue to help people in need.
Read more at samessenger.com/news/community/knights-of-columbus-reach-1-000th-blood-donor-milestone-in-st-albans/article_08bfb360-b9a4-11ec-afdd-9fb498de28c9.html?utm_campaign=blox&utm_source=facebook&utm_medium=social&fbclid=IwAR2AEGny0pzjj4V9Oq689HwsQlR3qefI8fqIez6qzoorC6fx3m3y2p1VFT4.
The council has completed its third year of a family program called the Keep Christ in Christmas Poster Board Contest for area children to illustrate what Christ means for them in Christmas. "It is always a rewarding experience to see all the creative talent as we judge based on the slogan, artistic merit and overall impact," he said.
In 2020, St. Albans had three posters for the three age brackets that won district competition and went on to state judging. In 2021, St. Albans had one child from the 8-10-year-old category who won the state competition.
Every year the St. Albans council participates in the Knights of Columbus Tootsie Roll program to help children with special needs. Many of the collected funds go to Northwest Counseling Support Services in St. Albans to help Camp Rainbow, a summer camp for children with autism spectrum disorder and other developmental disabilities. A smaller portion of the $4,100 collected funds went to the Knights of Columbus-sponsored Camp O'Hagen, a week-long camp ran by Camp Thorpe. On May 14 Council #297 was awarded a state award under the Life category for its successful Intellectual Disabilities Program. "We are appreciative for receiving this honor, but most importantly, we are happy that we were able to help so many people in the community through the Camp Rainbow summer experience," Garibay said.
Read more at samessenger.com/news/community/knights-of-columbus-council-297-donates-to-northwestern-counseling-and-support-services/article_1f6aa4e2-98ef-11ec-81f2-079643b36ebf.html?utm_campaign=blox&utm_source=facebook&utm_medium=social&fbclid=IwAR2nMrQe0iDKspTrAAuYqTYe_j7LFiLPty4yyqNLU4PKndGEKIX5gv8avKQ.
This year the council took a more active role in raising funds for the University of Vermont Children's Hospital. "We were successful in raising $3,100. We thank the community for their support and continue to advocate in helping UVM be a support unit for children and families," Garibay said.
Read more at samessenger.com/news/community/knights-of-columbus-council-297-raises-2-615-and-counting-with-big-change-roundup-for/article_259900f2-b037-11ec-9312-ffa5c360425c.html?utm_campaign=blox&utm_source=facebook&utm_medium=social&fbclid=IwAR17fgS9lZt-QVbHcQEv2EBZXauonOaPm0sjTmq_88C_0FjNUoUtvxhE1-A.
In January Council #297 will reach its 125th anniversary; members are planning a celebration to commemorate this milestone sometime in the fall of 2023. "We are proud to observe that out of the 36 active councils in the State of Vermont we are the third oldest behind Burlington (#279) and Rutland (#232)," said Garibay who became a member in 2019. "More planning is needed as we are in the early stages of planning this event, but we are looking forward to this special occasion."
The Knights are active in the St. Albans community and in the Church in Vermont. "I would like to express thanks and appreciation for all those who serve the community, the Church and help each other," Garibay said.
New members are always welcome.
For more information, go to facebook.com/Vermont-Knights-of-Columbus-103826661568239
or facebook.com/groups/967830120234040.