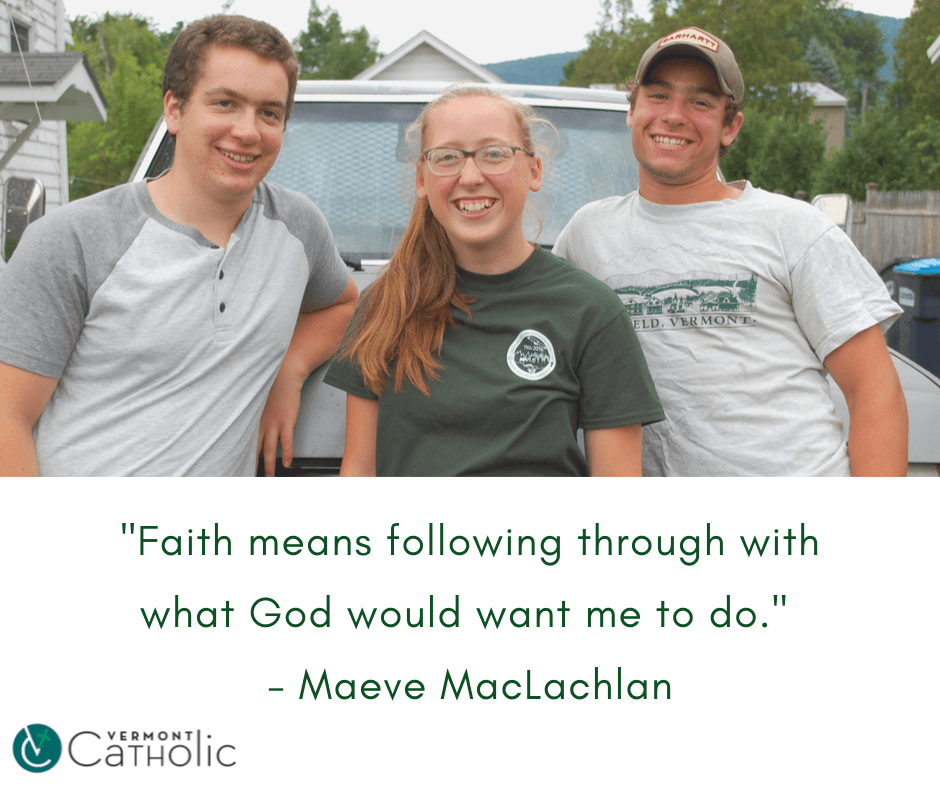 Rutland family makes Dismas meals a tradition
Laura and Jeremy MacLachlan are raising their three teenagers to do what is right and to treat others with dignity.
That's why a monthly dinner with residents of Dismas House in Rutland — a transitional housing program to reconcile former prisoners with society and society with former prisoners — is part of their family routine.
The MacLachlans were involved with the Dismas organization when they lived in Massachusetts, and after moving to Vermont in 2011 to farm, they found Rutland Dismas and became active supporters, serving their first meal in 2015.
It's not just a good thing to do, it's a way the parishioners of Christ the King Church in Rutland live their Catholic faith. (Dismas House is named for the "good thief" crucified with Jesus.) "Faith means following through with what God would want me to do," said Maeve, 13, an eighth grader at Christ the King School, who takes The Golden Rule to heart to treat others the way she would want to be treated.
Since the family made their first spaghetti dinner at Rutland Dismas House they've varied the menu which has included lasagna, venison stew, spring rolls and burgers. The
meals are now a family tradition, said Rocco, 17, a freshman at Vermont Technical College. "I like going; it's fun."
The dinners are an opportunity for the family to help others and to reflect God's love to people who might not experience "family" because of the choices they have made or because of the circumstances into which they were born, Mrs. MacLachlan said.
"We go there to show people we care about them," Maeve said. "Doing a nice meal shows they are cared about even if they made bad choices in the past."
Cormac, 15, a Rutland High School sophomore, said his family puts no judgement on the Dismas residents: "They should be treated equally" — with dignity — "the same as anybody else." Serving the Dismas meals "is something we do as a family because it is our faith in action," Mrs. MacLachlan said. "Our priority is Dismas because those folks are marginalized, and we show them that they have care and they have support in the community."
Dismas of Vermont has houses in Burlington, Hartford and Rutland. Learn about opportunities to serve at dismasofvt.org/volunteer.
—Originally published in the Fall 2019 issue of Vermont Catholic magazine.