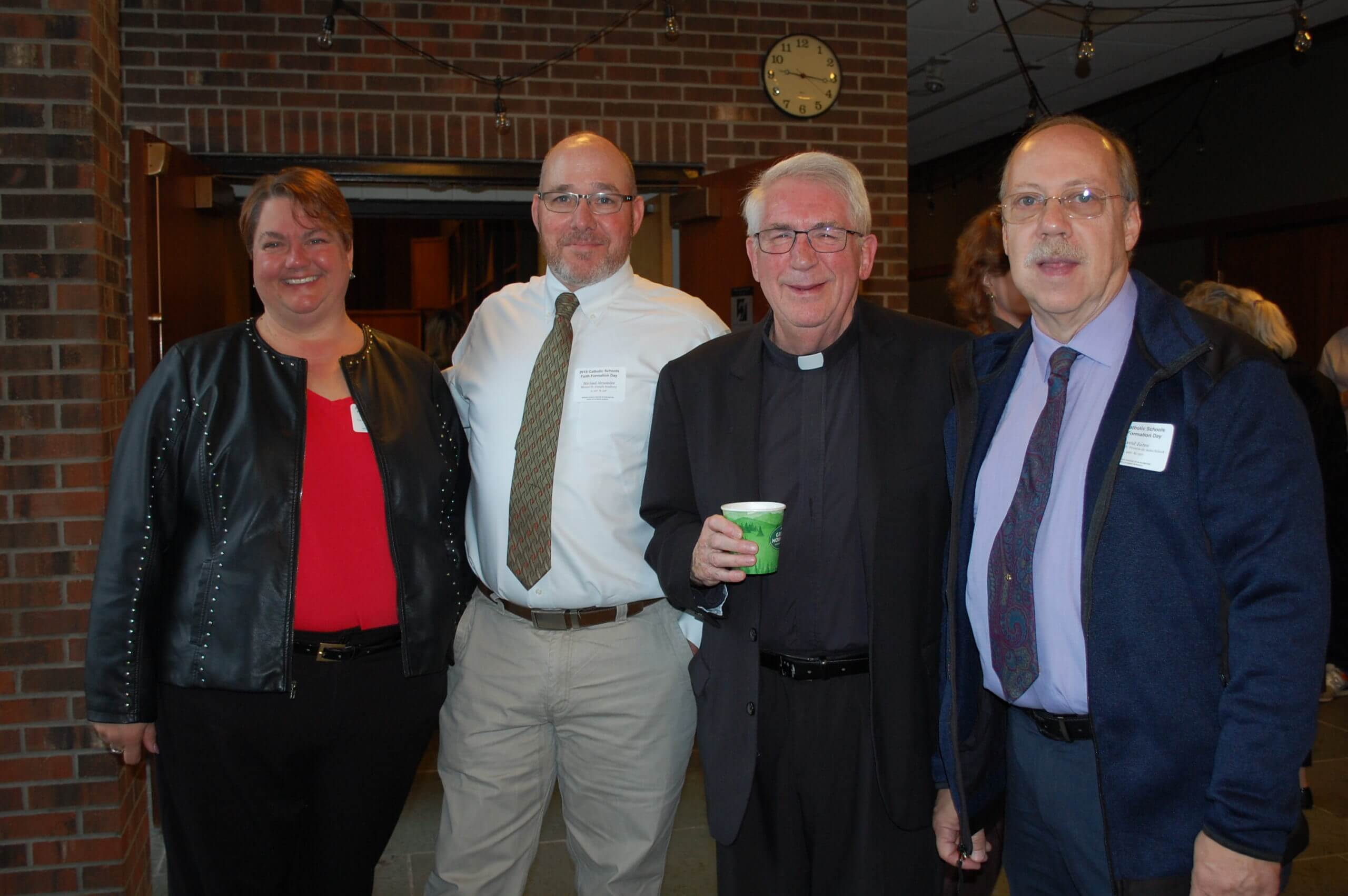 Msgr. Lavalley's letter to St. Stephen parishioners 'speaks to his compassion'
When Msgr. Richard Lavalley, pastor of St. Francis Xavier Church in Winooski, learned that neighboring St. Stephen Church was closing earlier this summer, he wrote to St. Stephen's parishioners expressing sadness over the closing of their church and love and support for them at a difficult time.
"I know there are no words I can offer that will remedy the sorrow you feel. What I do want to offer, however, is my heartfelt love and support to all of you at St. Stephen's Church," Msgr. Lavalley wrote. "I hope you will allow me and the parish of St. Francis to share your current sorrow in hopes of lessening it and be part of the joy we can all share in being able to celebrate Mass together."
"You are in my heart and in my prayers," Msgr. Lavalley wrote. "Father [Joseph] Sanderson [parochial vicar] and all our parishioners share my hope that you will find comfort, faith and the love of Christ waiting for you at St. Francis Xavier Church."
Julie Crenshaw had been a member of St. Stephen Church since she was baptized in the 1950s, and she joined St. Francis Xavier Church after St. Stephen's closed. She said the priests and parishioners of St. Francis Xavier have been "warm and welcoming."
She added that Msgr. Lavalley "has been especially kind in keeping us in his heart and prayers" and that his letter "speaks to his compassion."
In an interview, Msgr. Lavalley said St. Stephen parishioners are obviously sad, "but they are also coming to grips with the idea that this has to happen."
The Diocese of Burlington — like other Dioceses — is facing a clergy shortage and an aging and diminishing church membership.
He and St. Francis Xavier parishioners welcome parishioners of St. Stephen's and encourage them to join their previous ministries such as Extraordinary Ministers of Holy Communion, lectors and musicians. Msgr. Lavalley has invited the St. Stephen's Finance Committee members to join the committee at St. Francis Xavier.
In addition, a statue of St. Stephen will be placed in St. Francis Xavier Church, and the intercession of St. Stephen as well as St. Francis Xavier is invoked during all Masses. "We want [St. Stephen parishioners] to hear the name of their patron saint," the pastor said.
It is important to acknowledge the fact that this is a time of mourning for parishioners of St. Stephen's, he continued. "They are saying goodbye to their church, the church they know — the building that is."
He grieves with them, welcomes them with open arms and appreciates their talents. "We need you," he said.
In his letter, Msgr. Lavalley recalled a special New Year's Eve Mass in 1999, when he and the late Father Gerry Bombardier, then pastor of St. Stephen's, brought the two parishes together to usher in the new millennium in prayer, in thanksgiving and in hope for the future.
Parishioners from both churches gathered shortly before midnight on the steps of St. Francis Xavier Church, and the procession walked toward St. Stephen's, a few blocks away. "I carried the Blessed Sacrament as far as Main Street where I handed it to Father Bombardier for the rest of the journey," Msgr. Lavalley recalled. "We reached St. Stephen's at midnight, and we all celebrated the first Mass of 2000 together. It remains a beautiful memory for me."
That celebration "emphasized what we already knew," he continued: that there is one Catholic community in Winooski. "St. Francis parishioners have felt completely at home worshipping at St. Stephen's, and I know the same is true for many St. Stephen's parishioners who have worshipped from time to time at St. Francis," Msgr. Lavalley wrote in his letter. "I also know you will always have a special place in your heart for your beautiful church."