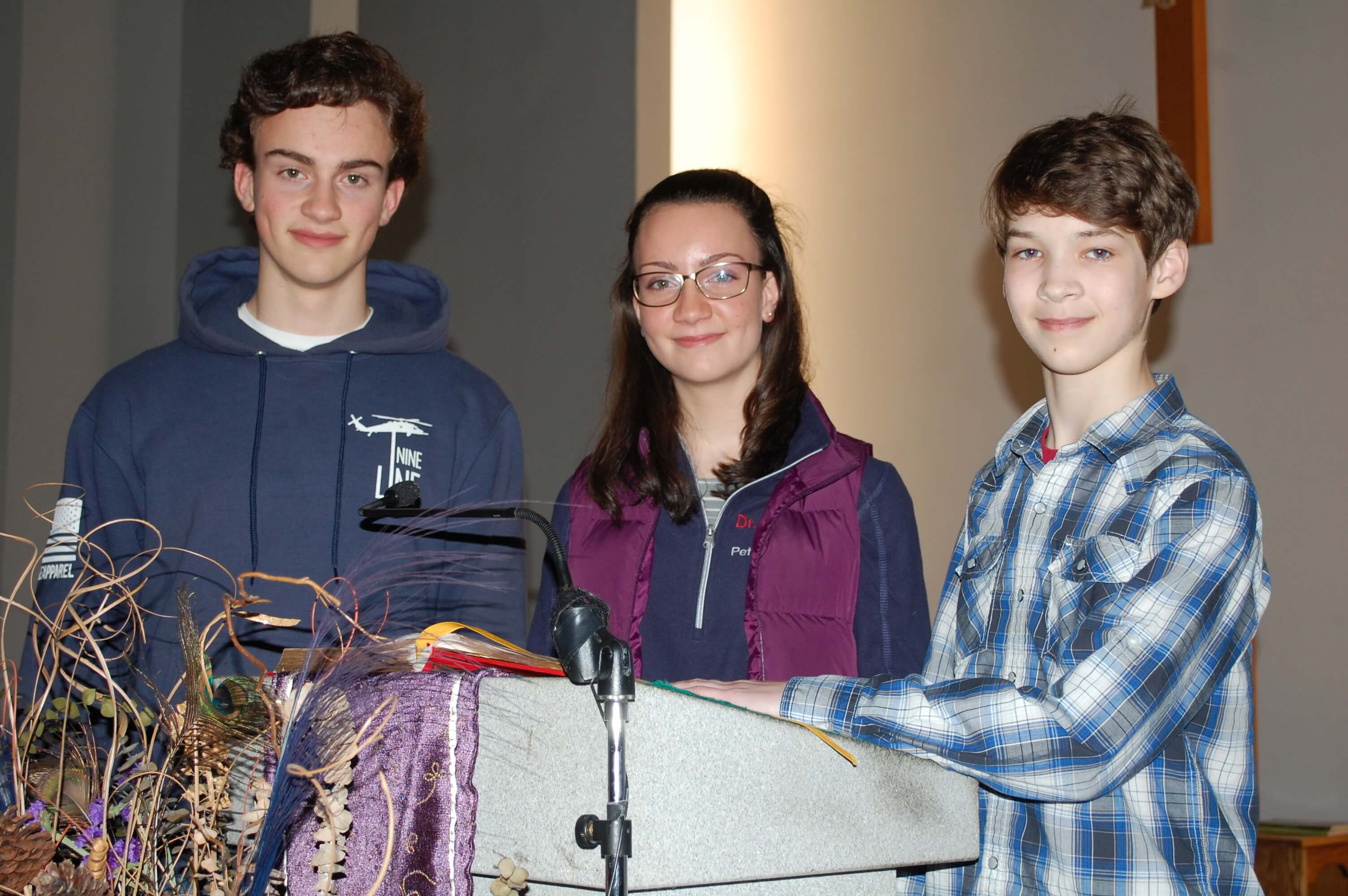 Lectoring helps youth feel connected to Mass, community
Ethan Cook, 14, has been lectoring at St. Jude Church in Hinesburg since he was in the third grade. What began as a role in parish family Masses has become a service he looks forward to. "I don't sit in the pews very often," said Ethan who is also an altar server. "Serving and being a lector helps me feel more connected to the Mass."
He is one of several youth lectors at the parish.
Another, Noe Lindemuth, 17, has been an altar server and finds that "I get more out of the Mass if I'm involved" in one of the liturgical ministries. "It's fulfilling for me to help with the Mass and be a disciple. It's a special opportunity."
Olivia St. Peter, 14, learned to lector when she was a student at St. Francis Xavier School in Winooski. "I enjoy lectoring because I feel like I'm a part of a bigger com-munity and feel a stronger connection to who I am as a Catholic," she said.
Noe's sister, Snow, 15, is an altar server and lector. "I really like to help out. I definitely feel I'm helping," she said.
They also know serving as a lector helps them in other ways like enhancing their vocabulary by looking up words they don't know when they practice the readings and becoming a more confident public speaker. Standing in front of a church congregation and reading used to be anxiety provoking for Ethan, "but I've been doing it for such a long time it stopped making me nervous." Noe said his lectoring experience has helped him when he makes presentations in school. "Public speaking is not my strong suit, but being a lector helps me overcome that." Kerry Lindemuth, mother of Noe and Snow, said lectoring has given her children confidence. "I always thought they are so brave. These young [lectors] go up and read in front of everybody. I'm so amazed at their courage." Becky Cook, Ethan's mother, said lecturing has given her son a special connection with parishioners, who recognize him and call him by name. "It's great to see that," she added.
"I believe it is important to get children involved in the church because it gives them a new experience," Olivia said. "Without even knowing it, they are growing a community within the church and a bigger under-standing of their faith."
—Originally published in the Summer 2019 issue of Vermont Catholic magazine.