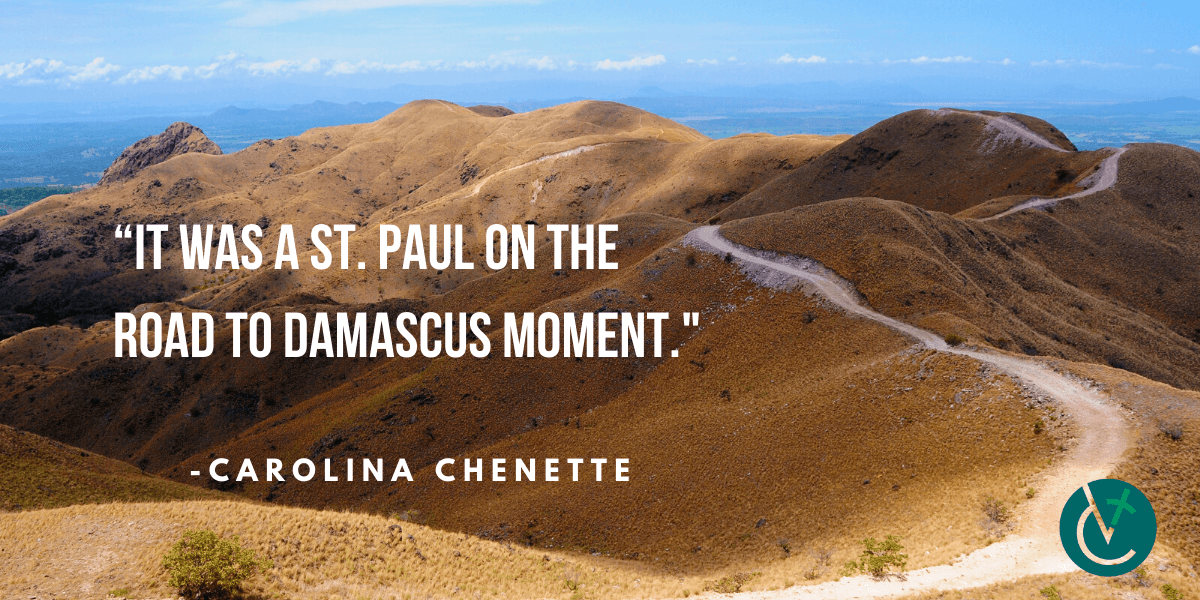 In a moment
Sometimes one moment in time is all it takes to discover God.
When Carolina Chenette considered her conversion journey, she said, "St. Paul and his drive to preach the Gospel has always inspired me, but my patron saint is St. Michael because he's a warrior, and that's who God has made me out to be."
Chenette, a member of St. Luke Parish in Fairfax, came to the United States from Colombia as a child and was raised in Miami, Florida, without any particular faith tradition.
She didn't know her father growing up, but she knew trauma and, during high school, physical abuse. She tried to deal with it through drugs and alcohol and entered into a period of depression. "My life was shattered," she said.
She credits her Protestant aunt, a Christian psychologist, with bringing about her initial conversion when she invited Chenette to read the Bible with her. Chenette agreed, and on April 28, 2010, she opened the Scriptures to read: "I will be a Father to you." She was overcome by God's promise. "It was a St. Paul on the road to Damascus moment," she said.
Chenette began pursuing non-denominational Christianity, trained as a missionary and spent a year and a half in Taiwan starting house churches. Eventually, she was called back to Miami and a year later lost her job.
She decided to spend time with family in Vermont. Six weeks before returning to Florida, she met her future husband, Andrew Chenette, who was Catholic. He started "talking about Catholic things, asking if I believed in the true presence of Jesus in the Eucharist. I said I did. For me, it made sense, and I didn't know Protestants believe the Eucharist is symbolic," she said.
In Florida, Chenette found a Catholic church she could visit every day, but she was heartbroken she couldn't receive the Eucharist.
Her belief in the Real Presence and her inability to receive the Eucharist in the Catholic Church became the motivating factor in preparing to become Catholic through the Rite of Christian Initiation of Adults.
Eventually, she joined the RCIA there, though she knew no Catholics to serve as sponsor. "God had someone in mind," said Chenette, sending Kimberly Toussaint to be "the most amazing friend who taught me so much about the Catholic Church."
Chenette received her Sacraments of Initiation in 2017 during the Easter Vigil in St. Augustine Parish in Gainesville, Florida.  "I cried when I received the Eucharist for the first time," she recalled.
Shortly thereafter, Chenette, who earned a master's degree in elementary education, moved to Vermont where was married. The couple is expecting their second child in August.
Chenette acknowledged her powerful experience of the Catholic faith, noting especially "the way Jesus' life is so perfectly highlighted through the liturgical calendar. I feel like the Church is calling me to invest my whole life into Jesus and the Gospels. It's awesome and beautiful. It's like feeding the hungry."
—Originally published in the Spring 2020 issue of Vermont Catholic magazine.