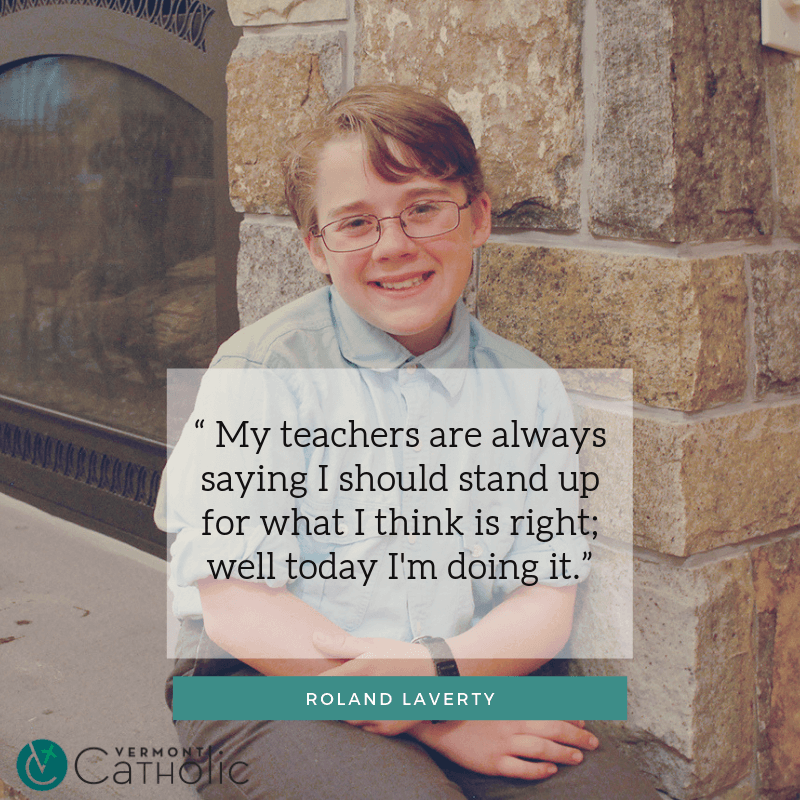 Essex boy shares pro-life views at Statehouse
An 11-year-old Essex boy brought his pro-life views to the Vermont Statehouse as the Senate considered a proposal (later passed) to amend the state constitution to ensure that every Vermonter has access to what the bill calls "personal reproductive liberty." But first, Roland Laverty prayed before the Blessed Sacrament at St. Pius X Church in Essex Center to discern if he should testify at the hearing that took place during Holy Week. "I knelt before the tabernacle and asked God if I should make the speech or not," he said. When he closed his eyes, in his mind he saw the Sacred Heart of Jesus, "faded and far away," so he took that as a "yes." A friend drove him and his mother, Lisa Laverty, to the Statehouse early enough to get in line to testify. "I am in fifth grade and my teachers are always saying I should stand up for what I think is right; well today I'm doing it," Roland read from the statement he had prepared the night before when his mother was preparing hers. "I think no one should be aborted. I'm standing here because my mom didn't abort me." Asked later why he testified, Roland — who is considering a priestly vocation — said he wanted people to know there is "always another way to deal with something whether it's a baby or some-thing else." Roland said his views on abortion are influenced by his Catholic upbringing: "You are taught in the Church to love all life." Laverty is proud of her son for standing up for his beliefs. "I want Roland to be brave and to live by his principles and to know he can have a voice," she said.
—Originally published in the Summer 2019 issue of Vermont Catholic magazine.