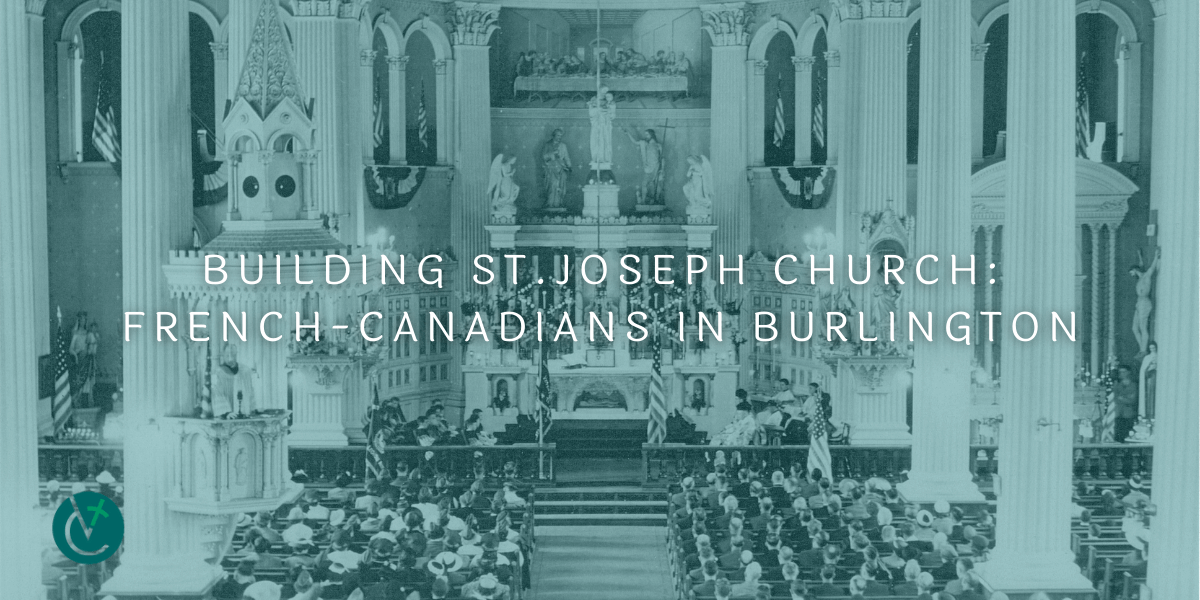 Building St. Joseph Church: French-Canadians in Burlington
Most of the French-Canadians immigrating to Vermont in the 18th century did so to improve their life situations.
Instead of having a desire to assimilate into New England's version of American culture, these immigrants prioritized the preservation of their own customs from Québec. With their Catholic faith at the center of French-Canadian culture, these large immigrant families were accustomed to supporting their church, schools and convents and gathering often for parish social events.
The building of St. Joseph Parish in Burlington began before a church building or the creation of the Diocese of Burlington. The growing French-Canadian Catholic congregation in the greater Burlington area — with the support of clergy who spoke their language and understood their customs — became the driving force behind the creation of the first French-Canadian national parish in New England.
Missionary days
The Catholic Church in Vermont was under the care of three separate Dioceses before the establishment of Burlington as a Catholic Diocese in 1853: the Dioceses of Québec (1674-1789), Baltimore (1789-1810) and Boston (1810-1853). A handful of priests traveled from Canada throughout northern Vermont; others ministered in the southern region.
In 1830, an Irish priest, Father Jeremiah O'Callaghan, became Vermont's first resident priest. Sent to serve all Catholics in Vermont, including Irish and French-Canadian Catholics in Burlington, Father O'Callaghan built St. Mary Church in Burlington in 1832 to serve both congregations. He did not speak French, and this lack of understanding of cultures between the English- and French-speaking immigrants was the source of tension between him and the French-Canadians. These mostly poor, uneducated French-Canadians resorted to civil marriage ceremonies instead of having sacramental celebrations – unless they returned to Canada for weddings and baptisms. They feared a decline of their French identity due to name changes by civil authorities and/or priests who did not speak or understand French.
Soon after St. Mary's was blessed and dedicated in 1832, Boston Bishop Benedict Fenwick requested the assistance of French priests for the six New England states. Father Amable Petithomme arrived in Burlington in 1834 after ministering in Maine to French-Canadians and the Penobscot tribe. Separate services took place at St. Mary's from the time he arrived. Father Petithomme built a small chapel for the French-Canadians near St. Mary's. He left Burlington in 1835; the French-Canadians then were served intermittently by Father François Ancé and Father Pierre Mignault. Despite their energized efforts to retain a resident priest for their congregation, French-Canadian Catholics in Burlington struggled to maintain their faith culture at St. Mary's among the area Anglophone majority.
A French-Canadian parish
Detailed communications among the Dioceses of Montreal and Boston and the French-Canadians outlining the need for a French parish continued until 1850 when Father Mignault advocated for the Canadian Catholics, indicating to Boston Bishop John Fitzpatrick that he knew of French priests willing to minister in the Burlington area.
The significant increase in the French-Canadian population in Chittenden County necessitated the creation of another parish. Father Joseph Quevillion of Joliette, Québec, arrived in Burlington in 1850 to serve as the first pastor of St. Joseph Parish.
French-Canadians in the area elected a committee of trustees for the new parish – a small group of literate, professional and skilled French-Canadian businessmen. Charged with the task of building their new church, the committee and Father Quevillion purchased land less than an acre in size on Prospect Hill, near the site of the first St. Mary Church. In 1850 the cornerstone for St. Joseph Church — named and dedicated to the first patron of Canada — was blessed by Father Migneault. By the end of 1850, St. Joseph's roof was complete, and Mass was celebrated in the wood and brick church; the solemn blessing took place on June 1, 1851.
A larger church for the French-Canadians
Some 20 years after building a church for French-Canadian Catholics in the Burlington area, St. Joseph Church on Prospect Hill was too small. Burlington Bishop Louis deGoësbriand appointed Father Jérôme Cloarec as pastor for St. Joseph's in 1871; Father Cloarec was instrumental in advocating for a larger church for the French-Canadians.
St. Joseph's was designed in a style unique to Québec – Late Italian Renaissance Revival. The exterior was completed with stone from the William H. Root Redstone Quarry in Burlington and greystone from the Isle LaMotte Greystone Quarry. Societies donated funds for other elements such as the decorative panels and medallions in the central barrel vault of the ceiling and three church bells. After four years, St. Joseph's was blessed by Bishop deGoësbriand on April 10, 1887.
The detailed documentation of the parish's history is captured in "History of St. Joseph Burlington, Vermont 1830-1987."
St. Joseph Parish and its founding Francophone congregation depict the unyielding perseverance and self-sacrifice of French-Canadian immigrants. It is a testament to their faith and trust in God.
For more information, email archives@vermontcatholic.org.
—Kathleen Messier is assistant archivist for the Diocese of Burlington. 
—Originally published in the Spring 2021 issue of Vermont Catholic magazine.