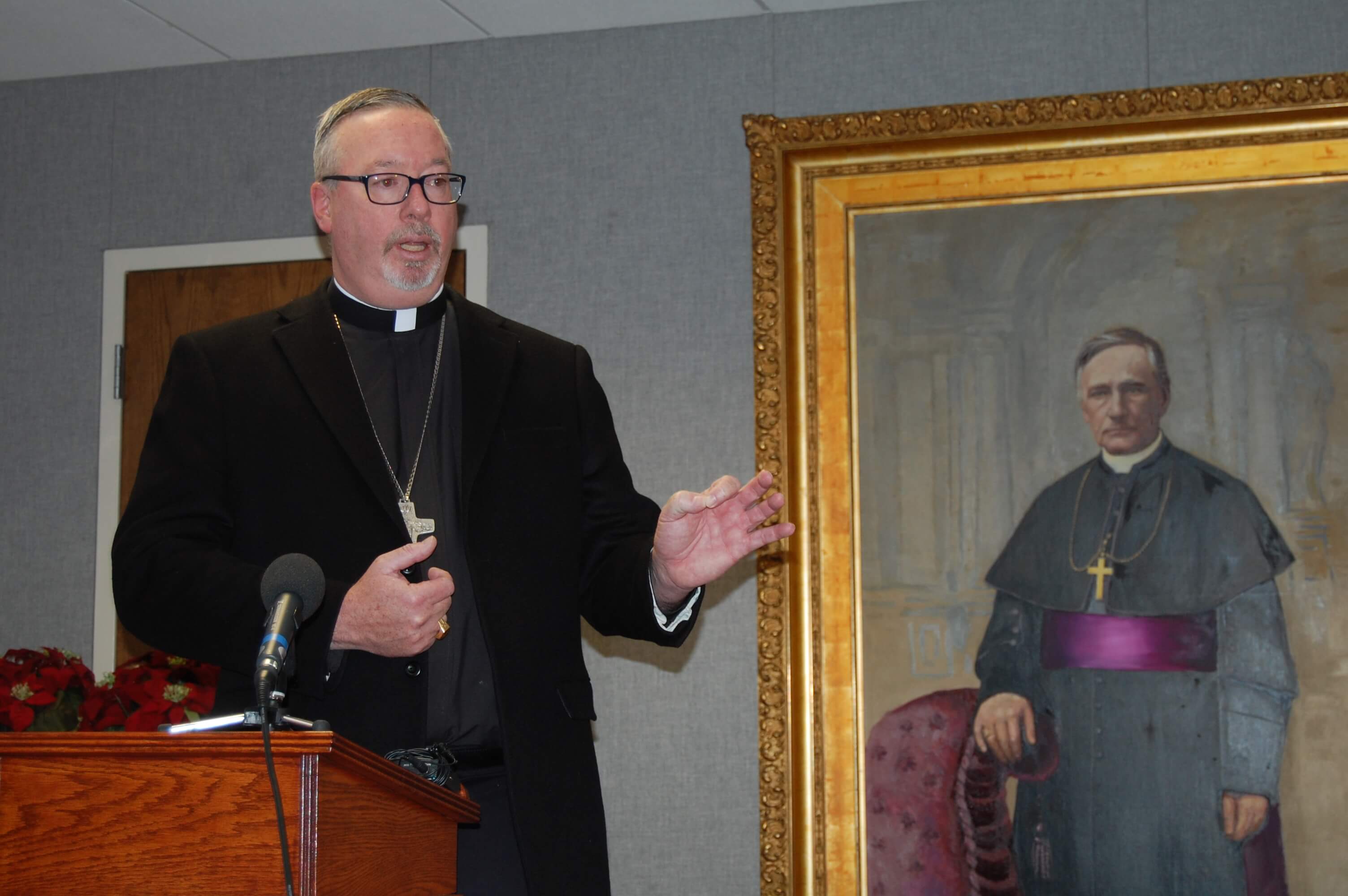 Bishop releases names of priests credibly accused of abuse
Burlington Bishop Christopher Coyne has released the names of 40 priests who served in Vermont and were credibly accused of sexually abusing a minor or vulnerable individual since 1950.
The list can be seen here.
"While there has been significant action by the Church here in Vermont and in the United States to address the issue of the sexual abuse of minors by clergy and the cover-up of those crimes by those in authority, the whole sordid tale of what happened in decades leading up to the U.S. bishops' 2002 Charter for the Protection of Children and Young People has not been fully aired. That is why I have asked that this report be compiled and published," he said.
The list was compiled by an independent, volunteer committee of four lay men and three lay women assembled in November 2018; one is a victim of clergy abuse and one is a non-Catholic.
"If there were a member of the clergy involved, it would interfere with the notion of a completely hands-off approach by the Diocese. This report needed to be done by lay people who had no vested interest in what the report came up with in terms of findings," said committee member Mark Redmond.
"Transparency was promised and received," said Mike Donoghue, another committee member.
The review committee worked independently of the Diocese, meeting with the bishop only once at the beginning and once at the end of the process.
"I was incredibly impressed with the professionalism of the members of the committee, all of whom took their work seriously and stayed with the task in order to produce a report of the highest quality," Redmond said.
The committee's report has been published without any edits or changes; it can be viewed at vermontcatholic.org/promise.
The committee considered complaints from 1950 to the present, just as other Dioceses have done, and was not bound by the statute of limitations in making assessments.
During that time, there have been some 420 priests assigned in the Diocese of Burlington.
The committee began with 52 personnel files that diocesan officials had identified as having some kind of claim made against a specific priest. As the committee proceeded, more files were identified.
According to the report, the volume of the files was a challenge; the file sizes ranged considerably as they included everything from academic records, to requests for vacations, parish assignments, correspondence between the priest and the bishop of the time, as well as any documentation associated with an allegation. Some files were 1,000 pages or more.
Most files were decades old, created at a time before computers, sometimes not kept in the best order, Redmond pointed out. "This made the work painstaking at times, but we stuck with it."
It became clear that the original target date to release the report on Dec. 31, 2018, was unrealistic.
According to Donoghue, at one point the committee thought they might have the final report out to the public in July, but members wanted to make sure every name, date, assignment and detail in the report and the list of priests were accurate.  "We wanted to ensure it was double and triple checked and more. We found we had to try to resolve details when we uncovered inconsistent dates on some documents, like the date of birth or an assignment on a biography form," he said.
"Honest discussions always were motivated by fairness — fairness to victims and their families and fairness to those accused. In reading these accounts of what happened to young people during critically formative years, we have been witness to how lives were changed in the moment," the report states.
The committee defined a "credible" allegation as one that met one or more of the following thresholds: natural, plausible and probable; corroborated with other evidence or another source; or acknowledged/admitted to by the accused.
The committee members did not interview victims or witnesses, deeming that as outside their scope.
They did review files and complaints concerning priests that were assigned at the former St. Joseph Orphanage in Burlington, which has been the subject of media reports for child abuse by priests, nuns and lay people.
The committee found the records maintained for priests belonging to the Diocese of Burlington were more complete, while only partial records were available for religious orders or communities (including Edmundites, Maryknollers and Paracletes) that served in Vermont parishes.
There are two categories for priests on the list the committee compiled: those who were assigned in Vermont and abused children here and those who have been found credibly accused in another jurisdiction and have direct or indirect connections to Vermont.
The final list identifies all priests found to have been credibly accused based on information or evidence.  The list includes the priest's name, date and place of birth, date and place of ordination, dates of service, assignments and status (living, dead, removed from ministry etc.).
The final list reflects a finding by the committee of at least one credible allegation against each priest listed.
Committee members are aware that there are other priests who are listed on the Bishop Accountability site (bishop-accountability.org) who may have a connection to Vermont or have served in Vermont. Members have not seen out-of-state files.
The committee has recommended the Diocese adopt a more formal tracking system which would result in a database of reported allegations of abuse against children and centralize relevant information such as names of victims, the date of the complaint, the accused, date and place of allegations, outcomes of investigations and other relevant information. "Going forward it would be one way to know if the complaint had been filed earlier, investigated and/or resolved," the report states.
Of the 40 priests believed to have been credibly accused, some faced criminal charges, others were sued in civil court.  Some resolved abuse cases before any lawsuit.  In other cases, the time to file criminal charges or civil lawsuits had expired.
The committee members know some victims did not come forward for whatever reason, including lack of faith in the Catholic Church or in the Vermont criminal justice system. "It is our hope those victims may find strength now to speak," they say in the report.
Additional files will be reviewed as more allegations surface.
The committee members are: Caroline Riehl Smith, a strategic project manager at a local company and a volunteer at a Catholic grade school; Mike Donoghue, who worked for 47 years at the Burlington Free Press as a news and sports reporter, often covering criminal justice issues and focusing on accountability journalism; John Mahoney, a retired schoolteacher; Mary O'Neil, a principal planner within the planning and zoning office of a Vermont city; Mark Redmond, executive director of a local non-profit organization; Bob Simpson, a retired Chittenden County state's attorney; and  Johanna Sheehey-Jones, a nurse who currently works as a clinical analyst.
Donoghue described the committee members as hard-working, dedicated, thoughtful, respectful, helpful and careful, saying they understood the serious nature of their work.
"In addition to confronting the sins of the past, we must remain vigilant in ensuring these sins do not occur in the future," Bishop Coyne said. "I have listened to the stories of victims of clergy sexual abuse and will continue to do so. They need to hear over and over again that we believe them. They also need to know that we are doing everything we humanly can to make sure this does not happen again."
The Church in the United States has put in place policies and procedures to make the Catholic Church one of the safest places for children today. In 2002, the Diocese of Burlington adopted the Charter for the Protection of Children and Young People, which requires: mandatory reporting of all abuse allegations to civil authorities; removal of credibly accused clerics from active ministry; background checks of all priests, staff and volunteers; training to recognize and prevent abuse; and other proactive steps to ensure the safety of all members of the Church family.
"As a result of our rigorous efforts, since 2002 there has been only one credible and substantiated claim of abuse against a priest in the Diocese of Burlington," Bishop Coyne said.
There are no priests in ministry in Vermont who have had a credible and substantiated allegation made against them.
Redmond said he is confident that all clergy with credible, substantiated allegations of sexual abuse have been included on the list, "but we all recognize that it is very possible if not likely that new claims may come forth as a result of this report going public. … [W]e may very well have more work to do if new claims result."
Based on the full files committee members have seen, reviewed and discussed, they believe they have included all cases that they are aware of at this time.   "We also know that information about old claims and also new allegations may come forward with the release of our independent report," Donoghue said. "We are afraid the committee's work will never be complete."
Committee members have said they expect some new cases to be reported as some silent victims will now find strength to come forward.  A few committee members have agreed to continue on during the transition to a new committee to try to ensure their standards are understood and hopefully maintained.
Bishop Coyne assured that "as has been the case for the past 17 years, I, along with the clergy, staff and volunteers of the Diocese, are committed to supporting and caring for all victims of abuse and will continue to work to ensure safe environments for all God's people — especially children, youth and vulnerable individuals — in which no form of harassment, sexual or otherwise, is tolerated."
If you have been abused or if you suspect a minor or vulnerable person has been abused, contact the proper authorities immediately, including local law enforcement and the Diocese's Victim Assistance Line at 866-485-2488.