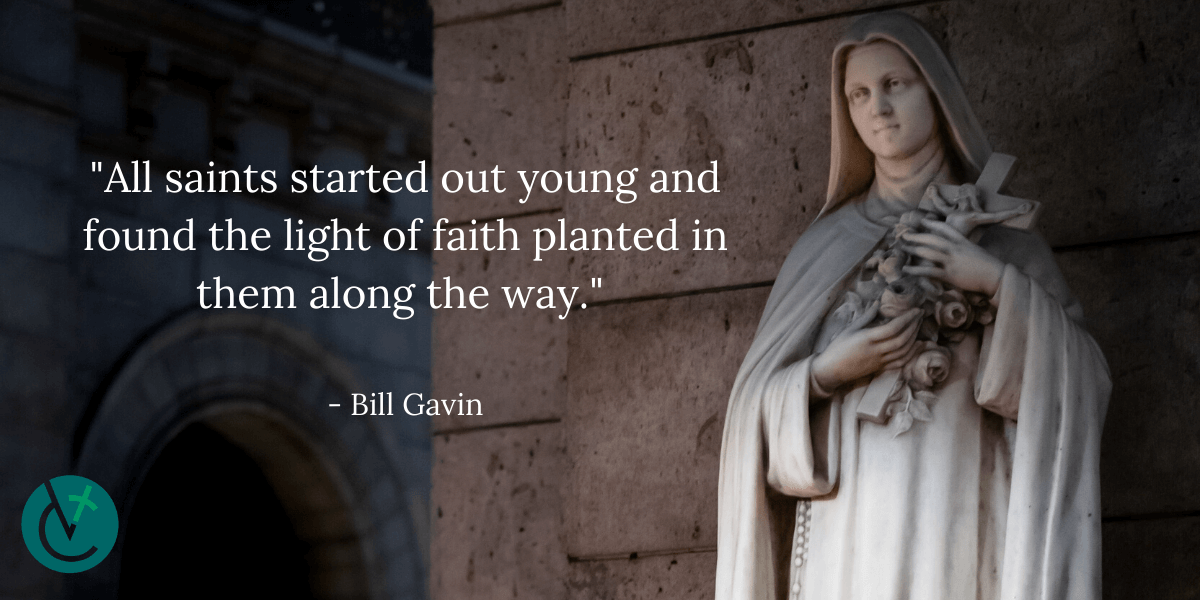 Youth called to a life of holiness
"Dear young people, do not bury your talents, the gifts that God has given you! Do not be afraid to dream of great things!"  — Pope Francis, World Youth Day
"My dear young people, do not yield to false illusions and passing fads which so frequently leave behind a tragic spiritual vacuum! Reject the seduction of wealth, consumerism and the subtle violence sometimes used by the mass media. Worshipping the true God is an authentic act of resistance to all forms of idolatry. Worship Christ: He is the Rock on which to build your future and a world of greater justice and solidarity."  — St. John Paul II 
"Dear friends, … I would encourage you to be missionaries of joy. We cannot be happy if others are not. Joy has to be shared. Go and tell other young people about your joy at finding the precious treasure which is Jesus himself. We cannot keep the joy of faith to ourselves."  — Pope Benedict XVI
Recent popes have called the youth of the world to a life of holiness.
Holiness, they have all emphasized, is not something out of reach and only for a select few, but instead the everyday calling of living the beatitudes, loving our neighbor, standing against injustice and being a light to all those we meet.
All saints started out young and found the light of faith planted in them along the way. Some of these saints even died young — like Dominic Savio — and others shed their blood as the ultimate witnesses of faith. We have seen this witness today in places like Syria, China and other countries where Christians are explicitly targeted for their faith.
One example is 26-year-old Kayla Mueller who in 2014 went to Syria to offer humanitarian aid and was murdered by ISIS extremists for being a Christian. There are literally thousands of other examples just like her all over the world just in the past decade.
The Church holds up for us hundreds of examples of modern young saints who have offered spiritual inspiration and nourishment for millions — such as St. Therese or Blessed Pier Giorgio Frassati — who both died at the age of 24. These saints all point us forward and higher to heaven.
As summarized by Pope Benedict XVI: "The world offers you comfort. But you were not made for comfort. You were made for greatness!"
To be a saint is to be great. As Pope Francis poignantly stated a few years ago (quoting a new young Venerable of the Church, Carlo Acutis): "'Everyone is born as an original, but many people end up dying as photocopies' don't let that happen to you!" Saints are all unique whereas to embrace a life of sin is to become no different than much of the world.
Many saints and spiritual writers have noted humans are, by nature, homo adorans — adoring beings. It is built into our nature to adore and worship. As Pope John Paul alluded to above, one of the greatest temptations of our modern era is to worship what is not God— for our youth it may be an athlete, politician, a well-known YouTube or TikTok sensation, a movie star or any other famous person.
In the end, all of these ultimately will leave us empty. They are living stumbling blocks to a world that prioritizes and prizes money, wealth, power and prestige.
The saints not only are amazing in the uniqueness of their stories, but they remind us of our ultimate destiny in heaven and the one to whom alone we owe worship.  The saints are all united in one particular virtue —namely, humility.  They are united in knowing before whom they stand and whom they ultimately serve.  They are united in unconditionally loving every human being and in being lights that shine in the world (cf. Phil 2: 15).
In this year of the saints, our prayer is that the youth of Vermont rediscover the treasure of our great "cloud of witnesses" (Heb 12: 1) that have gone before us and who now cheer us on through their prayers and intercession. In the words of St. Ignatius of Loyola, "Ad maiorem Dei gloriam!" (All Glory to God!).
—Bill Gavin is Director of youth and young adult ministry for the Diocese of Burlington.
—Originally published in the Spring 2020 issue of Vermont Catholic magazine.