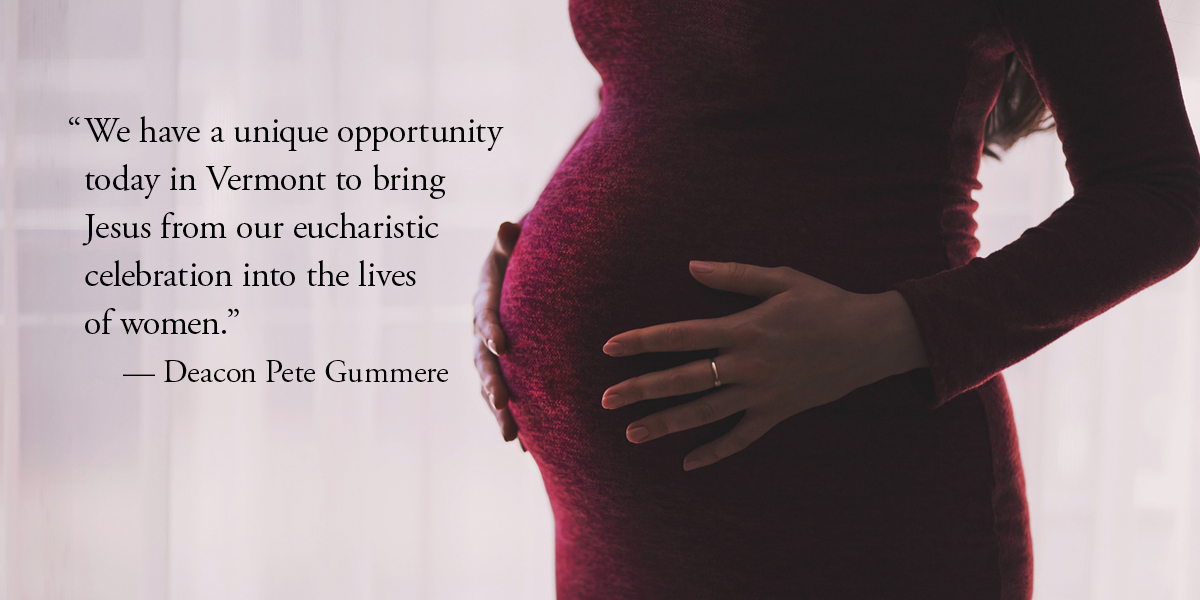 Beware 'otherizing' those in need
Recall how the Eucharist was instituted the night before Jesus suffered. The words Jesus spoke instituting the Eucharist are also the words of consecration still used at Mass. They reveal the intent of Jesus.  He gave himself completely to us sacramentally, as He would do in His passion and death. He commanded, "Do this in memory of me."
To this day the Church has continued to follow that command. Each time we participate in Mass and receive Holy Communion, we are transformed by the Lord's real presence.
As the "source and summit" of our life as Christians, the Eucharist not only changes us. It empowers us to bring Christ out into the world beyond the four walls of the church building — out into the marketplace, our homes and neighborhoods, our places of work and recreation, our schools and our meetings places; in short, to everyone we meet.
We have a unique opportunity today in Vermont to bring Jesus from our eucharistic celebration into the lives of women. With the passage of Article 22 of the Vermont Constitution it is imperative for the Church in Vermont to refocus on compassionate support to expectant mothers and to mothers in need.  Burlington Bishop Christopher Coyne and the other U.S. bishops launched the "Walking with Moms in Need" initiative in 2020.
Our zeal for this undertaking is a tangible affirmation of our bedrock teaching on the sanctity of human life and the dignity of all human beings. That belief is animated by the real presence of Jesus in us through the Eucharist.
In this regard I was particularly inspired by Deacon Art Miller of the Archdiocese of Hartford, Connecticut, who was the presenter at the Vermont Diaconate Retreat in October.
He told us that a Bible study group at his parish undertook a project he described as being pro-life. He counselled an unmarried woman expecting a baby and considering abortion.  She was homeless and lacked financial resources. He promised her some help, and he quickly lined up a comfortable place for her to stay, food assistance and medical care. He and his Bible study group lined up more resources including more permanent housing, food assistance and some other help. One member of the group offered her a good-paying job. Some of the members of group chipped in and bought her a car so she could get to work.
The woman is still working. Her daughter is now nine years old and doing well in school. Deacon Miller and others have been able to pledge continued help to her and her daughter including helping her through completion of a bachelor's degree if that is what the daughter wants to do.
Not every parish or community will have that depth of resources.  Not every mom in need has the same needs. But I hold that out as a "gold standard" for what can be accomplished.
At the same time, Deacon Miller brought up another point.  So often, people judge others whom they do not know or barely know. We sometimes think, "Those people are different." Such judgments may reflect a shallow basis.
We declare them to be, "other than we are." In short, we "otherize" them. Once we have otherized them, we feel more comfortable excluding them. It is so easy to otherize a single mom or an impoverished person. Each time we "otherize" someone, we continue the "otherization" of Jesus Christ that began even before His birth; we declare that there is no room for them ("those people") in our inn.
As a Church community, we need to overcome any hint of otherizing those in need, especially the single mom or the mom in need. We really need to walk with them. Walking with them will be a wonderful welcome for those moms and their children, an act of love coming from Jesus Christ through us.
Walking with Moms in Need with Christ-like love will be a wonderful gift back to Jesus at our next Mass.
—Deacon Pete Gummere serves at Corpus Christi Parish based in St. Johnsbury.  He is a bioethicist and serves as director of the Permanent Diaconate for the Diocese of Burlington.
—Originally published in the Winter 2022 issue of Vermont Catholic magazine.