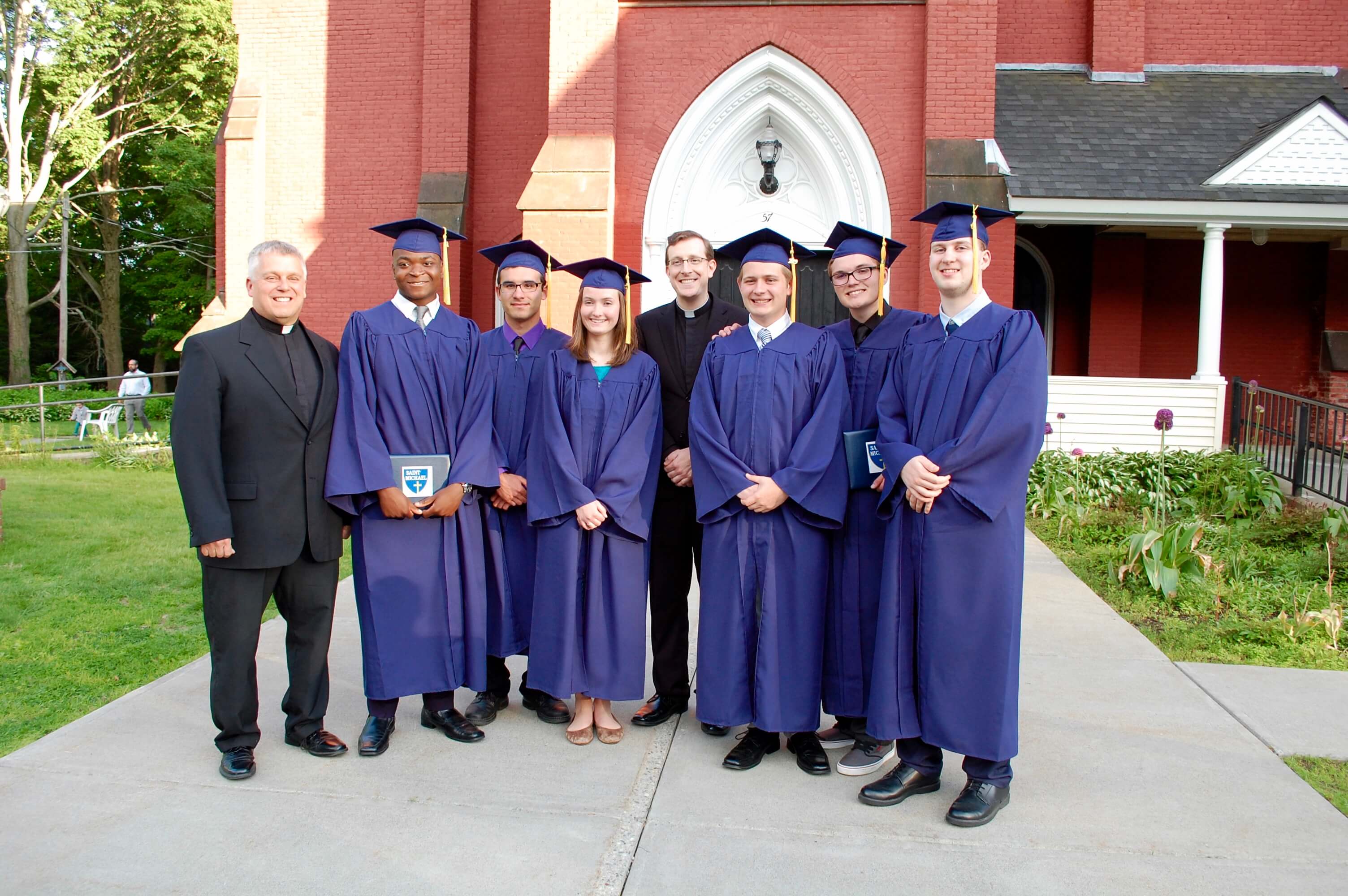 First class graduates from St. Michael's High School in more than 50 years
Members of the first class to graduate from the reopened St. Michael's High School received their diplomas June 14 at the school that also houses St. Michael Elementary and Middle School.
Before the Class of 2019, the last class to graduate from St. Michael's High School was the Class of 1968.
The high school reopened when members of the Class of 2019 were freshmen, with a grade added each year until all four high school grades were in place.
Six students graduated; the valedictorian was Lucy Duchaney and salutatorian Matthew Jacques.
The commencement speaker was Father James Dodson who was pastor of St. Michael Parish when the high school reopened. He is now pastor of St. John the Evangelist Church in Northfield and assistant vocation director for the Diocese of Burlington.
Reiterating what they already knew, Father Dodson said the graduates were created by God to know, love and serve Him in this world so they may be with Him forever in the next. "That is why we are here on this Earth," he said, adding that there is a big difference between knowing about God and knowing God: "Knowing about God moves you deeper to knowing Him."
Father Dodson encouraged the graduates not just to try but to triumph, and he said the difference between the two is "umph," which he said is like adding God to the trying. "With God you can move from 'try' to 'triumph.'"
Finally, he said the graduates, like everyone, are created to be saints, and on their graduation day they were "saints of St. Michael's," but he offered his prayer that they become saints of God.
Valedictorian Lucy Duchaney addressed the full house in Rand Hall, extoling the benefits of a Catholic education. "Life is hard. That is why God gives us hope," she said. "That is why this school exists."
Students learn the core truths of the Church and are lead to own them for themselves so they can incorporate them into their daily lives, she said. "A loving God will help people get through trials and get to the ultimate goal — heaven."
According to Elaine Beam, St. Michael's principal, families requested the high school be reinstated as there was no Catholic high school option in the southern part of Vermont or in neighboring towns in New Hampshire and Massachusetts.
The high school serves the tri-state area, offering a Classical liberal arts curriculum. It is accredited through The New England Association of Schools and Colleges Inc. and recognized by the State of Vermont as an approved independent school.
Of the six graduates, four will be attending college, one will be working with his family's business and one is undecided.
Following the graduation, the six members of the Class of 2019 processed outside to the front of the school and threw their mortar boards into the air before posing for photographs.
Among those in attendance at the graduation were previous graduates of St. Michael's High School.
The seniors attended a convocation Mass June 13, at St. Michael Church; Msgr. John McDermott, vicar general of the Diocese of Burlington, was the celebrant, joined by Father Baker and two priests of the Diocese of Springfield, Massachusetts. Deacon Richard Anderberg of Our Lady of Mercy and the West River Missions in southern Vermont assisted at the Mass.
Msgr. McDermott represented Burlington Bishop Christopher Coyne who was at a U.S. bishop's meeting in Baltimore. In his homily, Msgr. McDermott told the graduates that it's not easy to live authentically a life of faith, which can be criticized and misunderstood.
But it is important to live with authenticity — to be who they say they are, followers of Jesus. "Be who you have been taught to be" and realize what they have been prepared for is not simply academic success but to be a disciple of Jesus.
Msgr. McDermott expressed the hope that this was the first of many graduations from St. Michael's High School.
For more information about St. Michael School or High School, call 802-254-6320.
This slideshow requires JavaScript.