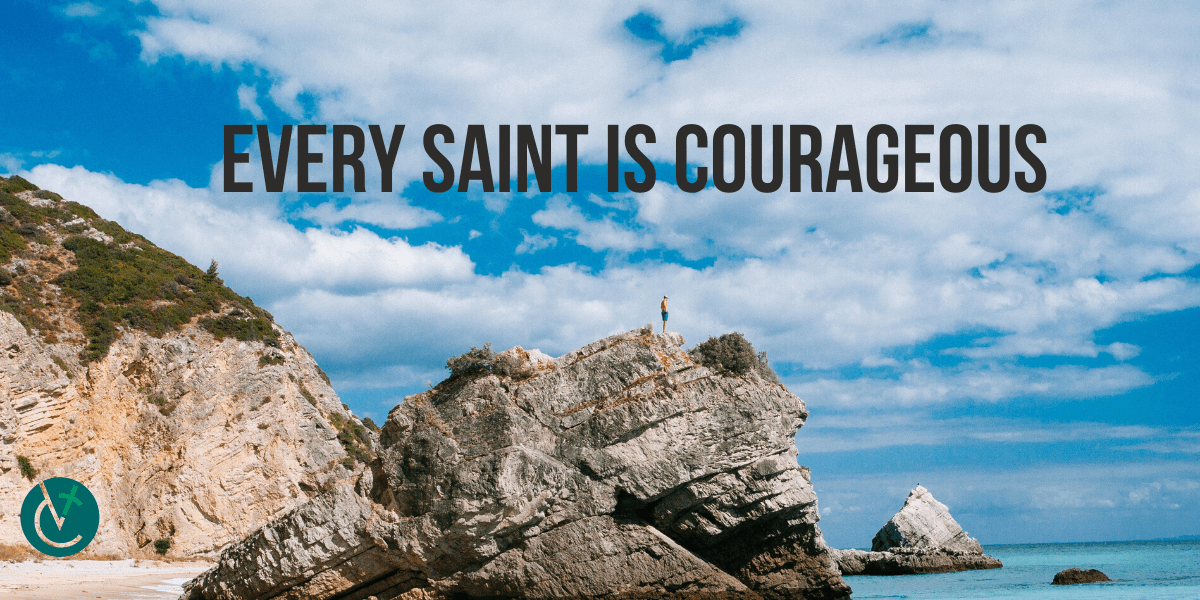 Every saint is courageous
"I am the good shepherd. A good shepherd lays down his life for the sheep. A hired man, who is not a shepherd and whose sheep are not his own, sees a wolf coming and leaves the sheep and runs away, and the wolf catches and scatters them. This is because he works for pay and has no concern for the sheep" (Jn 10: 11-13).
Every saint is courageous.  How that courage manifests itself depends upon the particular situation in which that saint finds himself or herself.  For example, the courage of a St. Isaac Jogues is different from that of a St. Elizabeth Ann Seton. Yet, each in his or her own century and circumstance exhibited courage in the internal forum and the external forum.
The interior forum is that inner sanctum of the soul in which reside the memory, imagination, intellect and will. It is known fully by God alone. Each of those attributes of the human psyche has to be directed to the pursuit of holiness. And that is not easy. There are regrets, fears, worries, guilt, hopes and dreams that all have to be purified in the fire of holy desire to live for God and His will alone.
The external forum is that aspect of our personality that is seen by others. It's what we do. If the internal forum can be considered the nursery for virtue, the external forum is the fruit ready for harvest. Sanctification is an act of the will by which we desire to become holy and through co-operation with God's grace we do holy things. The internal forum constantly needs purification because, for all of us, including the canonized saints, there is a sense of inadequacy at the thought of being a "good (enough) shepherd" for the sheep entrusted to us. But God overcomes our fears and gives us the confidence and courage to trust in Him.
St. Isaac Jogues (1607-1646) stated: "My confidence is placed in God who does not need our help for accomplishing his designs. Our single endeavor should be to give ourselves to the work and to be faithful to him, and not to spoil his work by our shortcomings." Such confidence gave him the courage to endure in 1642 a year of torture at the hands of the Iroquois and then to be murdered by the Mohawks in 1646 in Auriesville, New York. His conviction and courage as a good shepherd to spread the Gospel was the cost of his life, but he has inspired missionaries for almost 400 years.
St. Elizabeth Ann Seton (1774-1821), a Protestant convert to Catholicism, wife, widow, mother and founder of the first Catholic school system and religious order in the U.S. said: "We know certainly that our God calls us to a holy life. We know that he gives us every grace, every abundant grace; and though we are so weak of ourselves, this grace is able to carry us through every obstacle and difficulty." Upon her conversion, her relatives abandoned and mocked her because of their anti-Catholic prejudice, yet she created a religious order and opened a free school for girls in Maryland. Her order of religious sisters exists to this day. Her conviction and courage as a good shepherd to spread the Gospel was the cost of her reputation and family but has paved the way for Catholic education in the United States of America ever since.
Every saint is courageous.
—Father Lance Harlow is rector of St. Joseph Cathedral in Burlington.
—Originally published in the Summer 2020 issue of Vermont Catholic magazine.